I am a multifaceted person who has always been full of paradoxes. Like when in the final year of secondary school, I studied Pure and Applied Maths and Art! Everyone said "That's a strange combination." That is me! An unusual combination.
For me it's about creating the right balance of left and right brain stimulation – artistic creativity with business aptitude.
I have evolved, like we all tend to do, from a strategic marketer, with a Masters and all, to a stage actor, to a coach, facilitator and international speaker. I do love a stage and an audience. The best part of that is inspiring each audience member to make positive changes in their life.
As a professional, I have done the corporate thing, got the t-shirt, got frustrated and left to do my own thing. That thing has been Get Real Communication and involves delivering training and facilitating workshops in sales, marketing and relationship management. I spent several years traveling all over Asia-Pacific facilitating workshops in sales and partner relationship management for the likes of Cisco, HP, Oracle and other big international IT companies. They achieved great sales revenue growth by making strategic improvements in their business relationships as a result of my workshops. Below is me on site for a workshop 🙂
Those times involved many challenges, especially with training IT salespeople who can sometimes be a tad arrogant. There were also heaps of fabulous travel experiences exploring many Asian countries, which I loved, as well as opportunities to express my own creativity in helping people build profitable relationships. We all need to be able to express our creativity to enjoy our work.
Communicating and relating is my thing and helping people achieve great results by doing it effectively is one of my talents.
In my business, I use a transformational and intuitive coaching approach to develop engaging communication strategies that help people relate and connect in a way that feels good. It's all about authenticity, integrity and honesty, which are core values for me.
---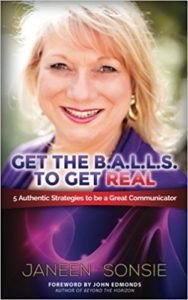 Whilst being a very caring and empathic soul, I am also a "say it how it is" type of gal who will get straight 'to the point' of the core issues, but still with respect. I love expressing myself creatively and am known for being a bit of a whiz with words that hit the mark. I even called my book Get the B.A.L.L.S. to Get REAL – 5 Authentic Strategies to be a Great Communicator.
Available on Amazon too!
---
I keep my coaching clients on their toes and don't let them get off easily when they need to be pushed. That's what they pay me for, huh.
Below is a short testimonial and you can check me out on LinkedIn too. 🙂

My other love is personal development, and I have done a lot myself in the last 20 years since my life fell apart with some major life challenges – but that's a story for another day.
These days, I get the most joy out of encouraging people to live a more fulfilling life themselves.
I do that by helping them make radical changes to get out of that stuck place and do what they really desire. Just like I have done in leaving my life in Australia to create this new journey and to live the life of my dreams in the south of France. Of course, there are many risks involved, like actually not knowing how it will turn out or where exactly I will be living. I will take it in my stride though … with maybe a little trepidation too, because I know in my heart it is what I am meant to and need to do.
For me, life is about keeping healthy, fit and active in the most youthful and high energy way possible – in mind, body, and soul with the wisdom of experience. I love the pleasures of a life well-lived with the beautiful luxuries of both natural and man-made creations balanced, with conscious spiritual awareness, but not in a religious way.
Join me on my journey to the life of my dreams. Explore with me, in my love of travel combined with my passion for gourmet food and great wine ("life is too short to drink bad wine" which is why France is my location of choice), Latin dancing and a slightly obsessive love of cats of all sizes. Being able to combine them all is one of my life goals – although eating and drinking whilst doing salsa is pretty tricky, especially with a cat in tow. I relish entertaining and cooking and am a pretty damn good host and organizer of parties, for which I always over cater in my generosity so there are always plenty of leftovers. When I get my own place in France I will have a party to meet my tribe. You can come.
It's all going to be revealed here. Follow along and let me know you are here by dropping me a line. If you have any questions about doing the same journey, feel free to ask me questions!


Living the Vision

Take the first step to connect to your vision?
Check out this Get Real Mindfulness Ritual...