For a change, it was a beautiful sunny day in Nice. Surprisingly the weather has been the WORST it has ever been in years. And this has been all year so far. Lucky me! Everyone is horrified about it. Irritability is high as we are all getting sick of the cold and wet.
So, miraculously, this lovely SUNSHINE day appeared.
We were so happy to get respite from the rain with golden sunlight beaming down on us from a blue, blue sky. My gorgeous new friend Alise, who lives in Nice, said she would love to take us 3 girls from my French class to the amazing village of Eze. It was only a 30-minute drive from Nice, toward Monaco and the Italian border, and we so appreciated being driven there.
---
---
We were whisked out after our class and picked up in the little Audi. Navigating our way out of Nice was pretty funny. The GPS in the car wasn't working for some reason. I was the lucky one sitting in the front beside Alise, so I got the task of navigating. There I was trying to navigate our way using my iPhone maps, which was giving confusing directions and trying to hold the phone so Alise could see it at the same time. A tricky maneuver for sure. We got there eventually but on a different road to what Alise had been on before. Oh well, new experiences and paths, huh.
---
When we arrived, I saw that there were many, many steps and steep stone paths to walk up.
---
Wearing the right shoes for the right occasion: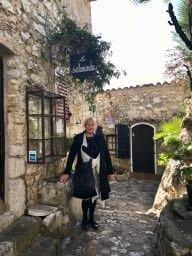 I was not wearing the right shoes for such an expedition. Mine were slippery leather soled flats i.e. no support and no tread to grip. Not a great combination with my dicky knees at all. Hence, I slowly made my way behind the other super fit girls, who jog just for fun.
Finding food in France past lunchtime:
It was past lunchtime when we arrived at Eze, so we stopped at the entry to the old village at the first café we found. We were starving. We were treated to the regional specialty of galettes – French savory crepes. Add to that a cheeky little glass of rose in the sun and it was the perfect picture.
---
---
Eze is beautiful. Spectacular views.
An old medieval village perched atop a steep cliff and high rocky outcrop. The narrow winding streets led us past beautiful little old houses with small doorways, many galleries and a couple of cafes. They were all in old sandstone with the famous terracotta roofs that are characteristic of the south of France.
We finally made it to the top where there is a botanic garden of cacti.
---
---
From here we had the most incredible 360-degree view of the surrounding mountains and beautiful deep blue Mediterranean Sea.
It was stunning. My words don't do it justice and neither do my photos, but as they say, a picture tells a thousand words.
---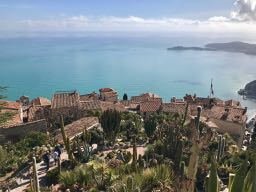 ---
Visiting Chateau Eza
From the top, we could see this fabulous looking little terrace overlooking the sea. We were sure it was part of a very expensive hotel and thought how we would love to go there. I suggested that we could go for coffee. How much more could it cost us for just coffees? So, we indulged and that is where I had my most expensive chocolate chaud yet, at 8 Euros. And it was worth every centime. The hot chocolate was very good but what made it so very worthwhile was the setting and the views.
---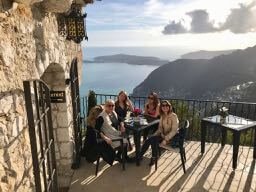 ---
It was a fabulous experience sitting on the sandstone terrace overlooking the most glorious blue sea. We imagined being rich enough to stay there and dine in that incredible restaurant overlooking the sea. It's a goal of mine now. I just need to build my coaching business up a bit more first hehe. Maybe we could visit Eze together if I ran a workshop in Nice 😉
---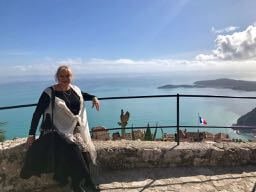 ---
The hotel is Chateau Eza and I'm quite certain it has been in movies in that incredible setting hovering more than 427 meters above the Mediterranean Sea. It was a collection of little houses bought in 1923 by Prince Philip of Sweden, who named it Chateau Eza. He fell in love with the spirit and tranquility of the place and lived there for 30 years. I can see why. It was incredibly stunning and we reveled in sitting there in that luxurious setting, soaking up the winter sun.
I managed to get down the slippery slopes without falling down, even though it was trickier than getting up actually.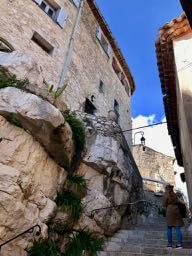 So a fabulous afternoon all in all. We were so grateful to Alise for taking us. I hope you enjoy my photos and that you get to see Eze for yourself one day. It is absolutely worth the visit. 😉 If you have any questions, let me know!