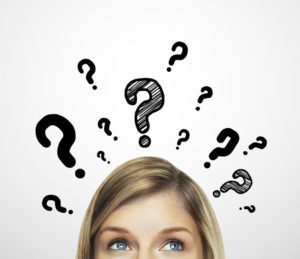 For the past year I have been living in the void of the unknown. I made a decision, just 14 months ago now, to sell up my house and let go of a lot of my possessions to move to France. I didn't know anything about my life beyond selling my house and flying to France in February this year.
Everything was unknown! Scary!
It is a pretty scary place to be when you do not know:
where you are going to live, other than a new country
how you are going to earn money to live on
who will be in your life
I had literally thrown everything I knew up in the air, because it wasn't working for me, and moved boldly into the unknown – that void with no plans, no structure, no definites … but also total freedom.
The void of the unknown is a place we try to avoid.
It is the place we fear most …
It's that place where we simply do not know what is going to happen and what we are going to do. It takes us completely out of our comfort zone.
Our comfort zone is that "safe place", usually simply because we know it. It may not even be that comfortable. Sometimes we stay in a very uncomfortable comfort zone – like a job we don't like, working for a boss who brings us down or in a relationship we don't feel happy in.
And why do we stay there?
Because it is known!
Because what is outside is unknown!
Because we have a barrier around our comfort zone that is FEAR!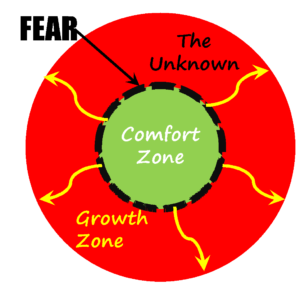 That FEAR can take many forms: fear of rejection, failure, maybe even success, embarrassment, and several more you can probably think of.
So, this fear barrier stops us from moving out and moving on. It stops us from growing because it is in The Unknown that we find our Growth Zone.
FEAR: False Evidence Appearing Real
Our fear is based on us imagining the worst outcomes.
So, if it is only imagination, why can't we choose to imagine the best outcomes instead of the worst? That is when we give ourselves permission to grow.
If you have been reading all my other blogs, you will be aware of how starting last year, I stepped out of my comfort zone into the unknown to create the life I want to live. That is still a work in progress … because it is a big dream with BIG BIG changes in my life.
If you haven't read my previous blogs, the 2-second summary is I gave up my business, sold my house and let go of half of my belongings, even had to rehome my beloved cat, to leave everyone I knew and create a totally new life in France. All because that had been my dream for many, many years. For an overview read Blogs The Decision, The 2011 Vision and The Big Letting Go.
I Took Action and Boldly Stepped into the Unknown … without FEAR
So where did all that action leave me? Living in the UNKNOWN … big time. While I was in Nice, I was in an enormous void. I still managed to have fun though 😉
When I made the decision to move to France, I did not know how I was going to do it all. I did not and still don't, have a visa to live in France. So at the moment, I don't actually know for a confirmed fact whether I will be allowed to live there. That said, I do know (in my heart and intuition) that it will all work out fine because I know I am meant to live in France. The visa will happen and soon.
At the beginning of this year, I had planned as far ahead as deciding to go to Nice for 3 months (the most I was allowed to stay with no visa) to learn French. I only chose Nice because I had a Facebook friend there, Corinne, who I had not actually met in person.
I booked my flights for 3 months in Nice and then 1 month in England to do some networking. I booked accommodation in Nice through the school and arranged to stay with friends in London. Then I would return to Melbourne to stay with Ludovic until I got my French visa. That was as far ahead as my plans went.
Beyond that, I didn't know anything. I didn't know if or how I would get the visa I needed. I didn't know which city or region in France I would live in when I returned to France or what sort of property I would be living in. I knew I wanted to buy a property and renovate/restore it but I also realized that was not something to just jump straight into. I first needed to decide where.
I knew I wanted to build some form of a coaching business that helps people create the life they want to live, but I wasn't sure exactly how I would create it and when I would be earning money. Being new to the country and trying to settle in myself and make major life decisions meant it would all take time. Therefore, I didn't know where my income would come from.
Trying to Operate Functionally in The Unknown
For a while there in Nice it was all a bit overwhelming. When you just don't know where or how your life is going – I only knew I was following my dream – it can feel like a bit of a black hole, but I knew I wasn't losing myself in it. I did know that I was on the right path for me, for my purpose and for my soul. So I had to consciously stay in the present moment to enjoy that (and there was plenty to enjoy) and keep my faith in my dream and destination, even though I didn't know specifically where exactly that destination was.
Was Nice My "French Home"?
Nice was lovely and pretty and fun and I made some really nice friends there, but it was not where my heart is. I didn't feel that sense of "being home" in Nice.
This was confirmed when I went to stay with my friends Wayne and Yen in Souillac in south-west France near the Dordogne River. Remember the story of my past marketing lecturer who I had the synchronistic meeting with when I contacted him on Facebook to have a chat – only to find out he was in Melbourne for a couple of days so we were able to meet in person (see my blog Commitment Brings Synchronicity). Well that was Wayne and he invited me to visit him and his wife.
The Liberating Ride to Souillac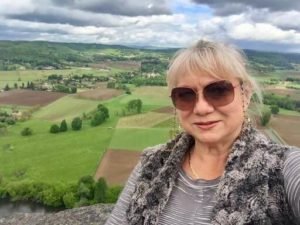 I rented a car and drove in that unknown car into the unknown countryside for 10 hours, on my own, across France to stay with them for 5 days. I loved it, most of the time as the scenery was fabulous to watch.
They were great hosts and I had a lovely visit.
I remembered how much I loved that region of France with its beautiful landscapes, green trees and lovely old buildings and villages and of course the region for delicious fois gras (don't judge me, I know it's not god for the geese).
---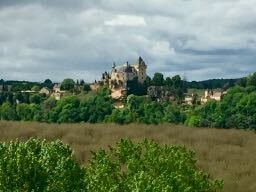 ---
That is the region of my heart space in France … but that trip raised more questions than it answered.
---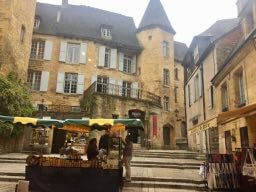 ---
How would I decide where exactly I would live in the Southwest? I love Bordeaux and Bergerac and am very drawn to those cities and that region. Bordeaux has many excellent criteria for me – like an airport and only 2 hours by train to Paris and a city that everyone says it fabulous to live in. On the downside, the property is getting more expensive as it increases in popularity. Who knows what I will be able to afford there?
I love the romantic idea of village life … but how will I build a business and find clients in that sort of area? Also, as Wayne and Yen identified to me, most of the people who live there are old retired Brits and that is just not my scene … yet … and probably not for many years yet knowing me. I still want some of the excitement of a city life in some form. Oh my god, so many questions and dichotomies. It is so hard to know what to do.
So back in Nice, I was following up a business venture idea. After sitting in the void of not knowing what I was going to do for a while, I decided I should come back to Nice when I get my visa. It seemed like that business idea could be what I would come back to Nice for. Also, at least I was a somewhat familiar with Nice and had some lovely friends there, so not all was unknown anymore.
I was concerned that the business idea was not in alignment with my purpose and the reason I had come to France to live, but it appeared to be a good way to earn some money and I had nothing else I could see on the immediate horizon. Then it wasn't coming together smoothly and easily and I had to take note of those signs and admit that the universe was showing me it wasn't the right path for me.
The Decision That Made the Right Business Partner Appear
It was really amazing what happened once I made that decision. The universe works in mysterious ways to show me I was supported.
I had become really good friends with a girl (not really a girl but I like to call my female friends' girls – woman sounds too distant to me), Nathalie. She is French but has lived half her life in Melbourne. Anyhow, I had met Nathalie in Melbourne in April last year – one month before I made my decision to move to France.
We sat next to each other at an event and had a connection and said we must catch up … but never did. Then, about a month after I had arrived in Nice, I got a Facebook message from Nathalie saying she had moved back to Nice in December. I thought WOW! Of all the cities in France and we end up in the same one. We met up and got along really well and developed a lovely friendship.
On the weekend before I left Nice, I had a chat with the first potential business partner on the Saturday to say my heart was not in the business idea we were talking about and I didn't feel it was right for me. It was important for me to be open and honest and upfront, although it was not an easy conversation to approach.
When One Door Closes, Another Opens
The very next day I had lunch with Nathalie and she said she wanted to work with me on a new business that involved helping women and also good food and wine on the French Riviera. Well, how could I resist that?
We have since fleshed that out and are in the process of creating a membership-based support community for expat women on the French Riviera (to start with) called Pizzazz Living.
We will be offering:
Learning – How to integrate into the French culture
Growing – With personal development in coaching and playshops
Having Fun – At social events like dinners/lunches and more.
I am so very excited about this venture and can't wait to get back to Nice to get it going and to work with Nathalie. It is like my ideal job and is still helping people create the life they want to live. This new business and company is also a better basis to apply for my visa on, so that is great too. That is why I am going back to Nice.
So where am I right now?
I know I am going back to live in Nice next, for at least 1 year. I have no idea where or how I will live there, other than renting a place somewhere outside of Nice, but it will all work out when the time is right.
I am staying at Ludovic's place until I leave Melbourne and then I will be leaving him and Australia … but I'm not sure when that will be.
I have an appointment with the French embassy in Sydney on 4 September to submit my visa application, but I still do not know exactly which visa I am applying for. More on that in the next blog. The one thing I do know is that I am meant to be living in France and I will get there because I will do everything in my power to make it happen!
My plan at the moment is to send my belongings to Nice, although most of them will probably have to stay in storage again until I buy my property, probably somewhere near Bordeaux. But, hey, what do I really know? Nothing.
Who knows how it will all unfold for me. It is complicated and I need to remain calm and go with the flow. Accepting of what has happened, surrendering to how it is right now and letting go of my expectations and what is not supporting me.
How interesting is it when you just relax and allow the Universe to bring the opportunities to us? How exciting can it be? Of course, that doesn't mean do nothing. I am very active in creating the life I want to live.
How to beat FEAR in the UNKNOWN?
It is necessary to:
surrender to sitting in the void of the unknown
stop yourself from imagining the worst outcomes
focus on what you want
keep your focus on the life you want to create
stay in the present, with gratitude for what you do have
to allow yourself to grow and expand in yourself and life.
My dream is ever present, although I realize I need to allow the "how" to develop whilst I remain open to exploring the opportunities as they arise. It is all new and the unknown is not so bad once you've settled in for a bit. It allows for new and exciting paths without the expectations that lead to disappointment. It actually creates a new, energizing freedom of being open.